Bitcoin Blockchain Gold Coins (2015):‎‎‎ From Ascribe to Inscribe in 8 Years

first of its kind from 2015 
Bitcoin Blockchain Gold Coins (BBGC, bbgc58 on Twitter) is a conceptual art project that features 58 characters, which are used for Bitcoin addresses (Base58). The artwork consists of pixelated coins displaying these characters.
The intention of BBGC was to have pictures/collections on the Bitcoin blockchain using Bitcoin only.
BBGC was first put on Bitcoin in 2015 using Ascribe.io. After this meta layer shut down in 2017, BBGC found a new temporary home on Ethereum in March 2021. Finally put back on Bitcoin in February 2023 via inscriptions #152,184 ("1" coin) to #162,355 ("z" coin). The artist combined the ETH-based NFTs and the Inscriptions using EmblemVault, creating so-called "super tokens".
It all started in the year 2007. The artist created some simple graphics on the computer as a relaxing hobby. Surfing the web and checking other digital art. Always wondering if it will be possible to make them unique. He started a Twitter account, @anewproject, in January 2010 to establish an art gallery for computer-designed art. His love for pixel art started with a Commodore 64, creating sprites (24 x 21 pixels or 12 x 21 multicolor) and then larger pictures on a PC (e.g., BBGC with its 32 x 32 pixels).
That was very early — notice the massive number of likes. And the overarching question "How to avoid copies for digital artwork?" was not solved at that point in time.
How was this possible in 2015?
In 2015, he discovered Ascribe.io, a meta layer on top of Bitcoin that used OP_Return in a similar manner as Counterparty. Compared to the latter, it did not require XCP and was hence the preferred choice.
Conceptually, he wanted to celebrate one of Bitcoin's foundations: its addresses which consist of 58 characters (1 to 9, A to Z, a to z; excluding the two capital letters I and 0, and the small letter l).
Point 1 of the timeline: On November 02, 2015, he issued 58 labels on block 381678 using Ascribe. The decoded OP_Return reads "ASCRIBESPOOL01EDITIONS58″. On Ascribe, labels correspond to naked tokens on Counterparty and their number could not be changed later on.
On Ascribe, the artist named himself "Blockchain Gallery". The picture below shows a Certificate of Authenticity that was issued by Ascribe on October 20, 2015 (it took Ascribe a few days to issue it on Bitcoin). The part marked in red is the project's logo. The actual artwork (the 58 coins with the letter and numbers) was not put on Bitcoin at that time.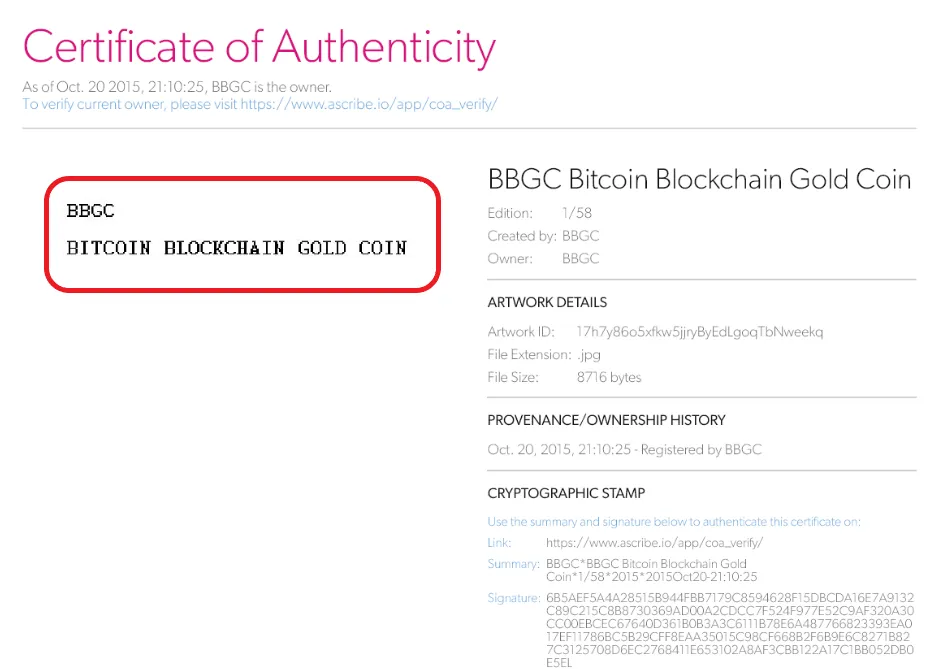 Point 2 of the timeline: Due to substantial scaling issues, Ascribe shut down in 2017. The artist has not sold any of the naked tokens at that point in time.
intermediate stop
Point 3 of the timeline: He decided to move to Ethereum until Bitcoin offers a Bitcoin-only & on-chain solution. The collection Bitcoin Blockchain Gold Coin was minted on Ethereum in March 2021. Back then, the artwork was added as well. It consists of 58 unique 32×32 pixel coins with single characters or numbers.
The long journey found its way to home ORDINALS
In December 2021, discussing the issue of "NFTs on Bitcoin blockchain" (on Bitcointalk), the artist wrote: "If you can bring NFTs to the Bitcoin blockchain, I will bring back my 2015 'NFTs' to your project".
Point 4 of the timeline: When Ordinals became popular in February 2023, the artist inscribed all 58 pixelated coins on Bitcoin. The inscriptions range from #152,184 ("1" coin) to #162,355 ("z" coin).
Point 5 of the timeline: Rather than burning them on Ethereum, the artist decided to unite both versions using Emblem Vault. Each of the individual vaults holds the ETH- and BTC-version of the respective coin. Creating a super token that provides ownership of both versions in one EmblemVault — from ETH and BTC. Last, but not least: Ordinals.market is the main marketplace for these super tokens.