BRC-20 Services for FREE on OrdinalSafe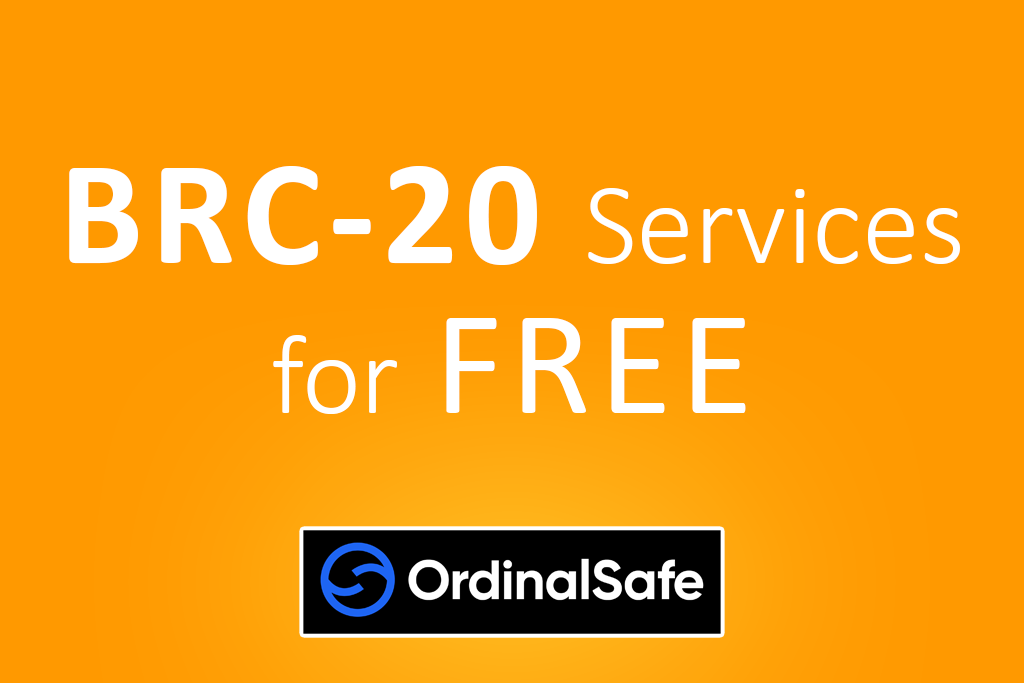 OrdinalSafe is your gateway to digital artifacts on Bitcoin
We are excited to launch our highly anticipated BRC-20 Minting Service! The emergence of BRC-20 became one of the groundbreaking developments as an experimental token standard bringing fungible tokens. BRC-20s have experienced remarkable price surges, gaining significant market capitalization. OrdinalSafe has been closely monitoring the exciting developments in BRC-20.
OrdinalSafe now has a BRC-20 minting page for the Ordinals community. To celebrate the launch, we are offering free token minting for the first month. Explore, experiment, and bring your unique ideas to life without any financial barriers.
At OrdinalSafe, inclusivity is our priority. We believe everyone should have a chance to participate in the world of Bitcoin Ordinals and BRC-20s. By removing service fees and offering free minting, we aim to encourage widespread adoption and empower the community that has supported us.
Some Misconceptions about BRC-20 Minting
OrdinalSafe has been following innovations in Ordinals space very closely. As we witness ever-evolving Bitcoin and Ordinals, we have noticed potential misconceptions about BRC-20 mints and launchpads.
Misconception 1: BRC-20 that I want to mint will not be available in other launchpads. Users do not have to mint BRC-20 from one specific launchpad. BRC-20s are available for minting from any platform that offers such a service. You may think that a specific BRC-20 endorsed by a specific launchpad is only available on the advertised platform. That is not really true. You can mint your favorite tokens from any other BRC-20 minting services including OrdinalSafe.
Misconception 2: A lot of the times what is shown as a total cost is thought to be a network fee. Service fees and network fees are two different things. A close look will show the breakdown of the costs and how much service is charged by that specific launchpad or BRC-20 platform. In fact, we observed that some launchpads/platforms are not completely transparent about how much you pay. They do not include the estimated network fee that you pay when you send a payment to the platform for minting. By not including the additional network fee, these platforms present themselves as cheaper than they actually are.
There is nothing wrong with charging service fees as the platform has its own costs and needs to provide some incentives for itself to keep providing the service. That being said… While some service fees are reasonable, we have observed some really high and greedy service fees in the ecosystem.
Misconception 3: Every minting platform is charging a service fee. Well, that is not true. Currently, OrdinalSafe is the only platform that offers no service fee minting for BRC-20s. You can mint ANY token you can think of from OrdinalSafe without paying any service fee.
How can you mint/deploy BRC-20s from OrdinalSafe?
We aimed to provide an easy to use and intuitive minting page for the community. When you go to OrdinalSafe BRC-20 page, you will see a list of BRC-20s that are categorized as "all – in progress – completed". These categories show the progress of minting. All you need to do is to click on ticker (name of your desired BRC-20) and mint.
If you know the name of BRC-20 that you want to mint or you want to deploy BRC-20, you can also go to OrdinalSafe inscribe page and directly mint/deploy from there.
Stay tuned for updates as we evolve our platform to meet your needs. Mint your imagination into reality with OrdinalSafe and enjoy no service fee minting.